Posted on August 24th, 2017
Another feature just went live… we're on a roll! With this latest release, you have the ability to share feedback to Twitter and Facebook from within Hively where permission has been given by the rater. This feature will be particularly handy when you receive 'testimonial style' feedback. For a long time, we've had a checkbox […]
Read More...
---
Posted on May 23rd, 2017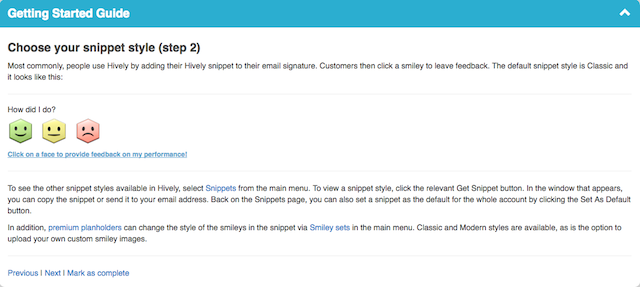 Hively's new Getting Started Guide makes the process of getting new users on your account up to speed easier and hopefully a bit more fun! Now, when a new user logs into Hively for the first time, they'll be greeted by a new section at the top of their screen that looks like this. The […]
Read More...
---
Posted on May 26th, 2016
Hively accounts can now be split up into multiple teams. This can be useful: Where you have a larger account and would like to track metrics by team. Where you want Team Leaders to have visibility of their Team Member's ratings, but not of Team Members of other teams. Where you have multiple brands within […]
Read More...
---
Posted on December 19th, 2012

Many of our customers have asked us for the ability to show off their customer happiness scores. Several have even gone as far as updating their company blog monthly with the information. So, we've made it easy to publicly display your customer happiness ratings. We're happy to announce a new feature in Hively – the […]
Read More...
---
Posted on November 7th, 2012

We just finished adding a new integration partner to Hively. This time with one of our favorite help desk applications – Help Scout. Help Scout is perhaps, the most simple solution available for managing your customer support. It's easy to get started with Help Scout and ideal for small businesses. It's easy to insert Hively […]
Read More...
---
Posted on September 5th, 2012

When customers leave you feedback with Hively your engagement with them doesn't have to stop there! Hively provides you with 'thanks buttons' to add to the customer feedback process. What are thanks buttons? Thanks buttons are customizable buttons that link to web pages, videos, white papers, coupons or even send emails. These buttons give your […]
Read More...
---
Posted on August 23rd, 2012

We've added a couple of new enhancements to Hively, all focused on providing you with better customer service while using the application. The first enhancement is our 'View Help' screen. If you're curious about where something is or what a button/link on a page does simply click the 'View Help' button at the bottom right […]
Read More...
---
Posted on July 24th, 2012

Today we're really excited to announce the 'Buzz' version of Hively! We've had several customers request the ability for team members (employees) to give feedback to each other and to have that feedback be separate from customer feedback. Employees giving each other feedback is a great way to keep your team members motivated and get […]
Read More...
---
Posted on May 10th, 2012

We've added a new rating snippet in the Hively rating snippet gallery. The rating snippet gallery provides you with additional opportunities to gather customer feedback. The new rating snippet we've added is a 'Plain Text' option. Although plain text isn't all that exciting, this option works great inside of email signature and CRMs that don't […]
Read More...
---
Posted on April 26th, 2012

A few people have been asking us to explain the new 'WOW' feature in Hively so we thought we'd just make it a post in case others out there have the same questions. First – what's a WOW? You know those times you go the extra mile for a customer? Well now they can let […]
Read More...
---