Posted on June 28th, 2018

We're very excited to announce a significant new feature now available on Hively premium plans – Custom Fields. The standard Hively feedback page shows the three smiley icons (Happy, Satisfied, Unhappy) along with three fields – Name, Email and Comment. Over time we've had many requests asking if it's possible to change these fields or […]
Read More...
---
Posted on March 15th, 2018
One of the most important things your customer will see as part of the rating process is the "Thanks" page which displays when they have finished leaving a rating. There's a great opportunity here to interact further with your customers so the Hively team is very pleased to announce a new feature: Branded Thanks Buttons! […]
Read More...
---
Posted on January 30th, 2018
We're pleased to announce that Hively now integrates with email signature manager CodeTwo. CodeTwo offers solutions for managing signatures across your organisation in Microsoft Exchange and Office 365, making this perhaps the simplest way to roll Hively out to your whole organisation. Using CodeTwo, the Hively snippet can be added once for all members of […]
Read More...
---
Posted on October 24th, 2017
We've added a few workflow improvements to make the lives of Admins that little bit easier, especially those looking after larger accounts. Collectively, they're worth a quick blog post. The changes are: Search for Team Members If you have more than a few dozen team members you're likely to benefit from the new Search field […]
Read More...
---
Posted on August 24th, 2017
Another feature just went live… we're on a roll! With this latest release, you have the ability to share feedback to Twitter and Facebook from within Hively where permission has been given by the rater. This feature will be particularly handy when you receive 'testimonial style' feedback. For a long time, we've had a checkbox […]
Read More...
---
Posted on May 23rd, 2017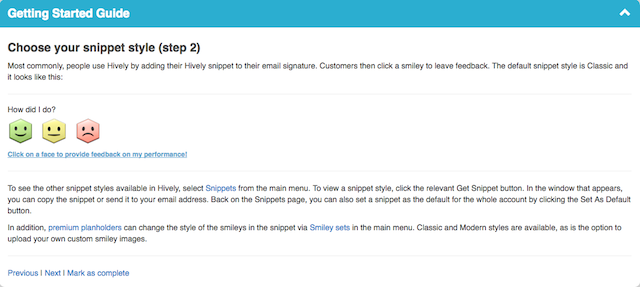 Hively's new Getting Started Guide makes the process of getting new users on your account up to speed easier and hopefully a bit more fun! Now, when a new user logs into Hively for the first time, they'll be greeted by a new section at the top of their screen that looks like this. The […]
Read More...
---
Posted on May 26th, 2016
Hively accounts can now be split up into multiple teams. This can be useful: Where you have a larger account and would like to track metrics by team. Where you want Team Leaders to have visibility of their Team Member's ratings, but not of Team Members of other teams. Where you have multiple brands within […]
Read More...
---
Posted on December 19th, 2012

Many of our customers have asked us for the ability to show off their customer happiness scores. Several have even gone as far as updating their company blog monthly with the information. So, we've made it easy to publicly display your customer happiness ratings. We're happy to announce a new feature in Hively – the […]
Read More...
---
Posted on November 7th, 2012

We just finished adding a new integration partner to Hively. This time with one of our favorite help desk applications – Help Scout. Help Scout is perhaps, the most simple solution available for managing your customer support. It's easy to get started with Help Scout and ideal for small businesses. It's easy to insert Hively […]
Read More...
---
Posted on September 5th, 2012

When customers leave you feedback with Hively your engagement with them doesn't have to stop there! Hively provides you with 'thanks buttons' to add to the customer feedback process. What are thanks buttons? Thanks buttons are customizable buttons that link to web pages, videos, white papers, coupons or even send emails. These buttons give your […]
Read More...
---