New Feature: Rating Request Templates
Posted on February 7th, 2019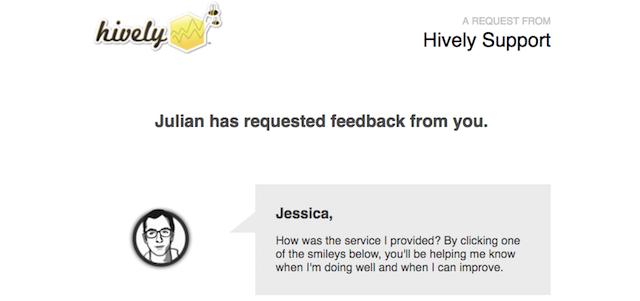 Rating Requests have been a part of Hively since the early days and are a very effective way to get more feedback. In fact, the majority of feedback we receive internally (and some of the very best feedback too!) comes via Rating Requests. As such, we're on a mission to lift their usage rates starting with today's announcement – Rating Request Templates.
Rating Request Templates contain wording and settings that you can use when sending out your Rating Request. We've provided a few templates for you that cover some common uses of Rating Requests and customers on the paid plans can add their own templates. If you want to override any of the details of the template you can always do that when sending a request out.
In addition to the new templates, we threw in a few smaller Rating Request related changes into this release:
Rating Request details can now be viewed directly when viewing a rating.
You can choose whether to include a user's profile picture in a Rating Request.
Rating Requests and Rating Request Templates now have a Preview button so that you can see how your request will look.
The Rating Request email layout has been updated for improved viewing on mobile devices.
This support article includes details on implementing Rating Request Templates.
We hope this release has you taking a closer look at Rating Requests and you can expect more enhancements over the coming months. If there are any specific enhancements you would like to see included or have some thoughts to share on how you would like to use Rating Requests in your organisation, please let us know as customer suggestions have a big influence on our product development roadmap.
---
Be the first to comment!