New feature: Custom fields
Posted on June 28th, 2018

We're very excited to announce a significant new feature now available on Hively premium plans – Custom Fields. The standard Hively feedback page shows the three smiley icons (Happy, Satisfied, Unhappy) along with three fields – Name, Email and Comment. Over time we've had many requests asking if it's possible to change these fields or add more – this new feature does exactly that. Here's what the feedback form looks like with a custom field on it: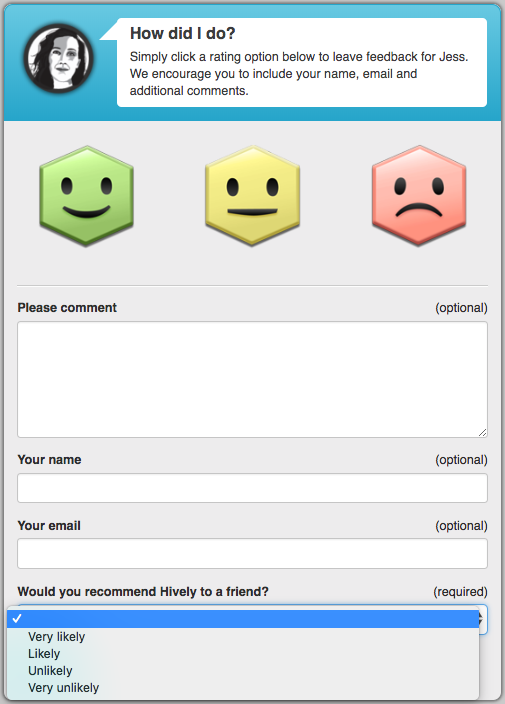 As well as being able to change the standard field labels you can:
Add 'hint' text under the field to give raters more information about what you'd like them to tell you for that field
Set your field as a text box to allow for longer answers or comments
Set your field to be a drop down list to specify a list of answers
Make any field required or optional for each rating type (Happy, Satisfied or Unhappy)
This opens up a lot of new ways to use Hively to gain a greater understanding of customer sentiment. Here are some examples:
If you're looking to understand a particular issue you can create a bespoke set of questions related to your objective and send it out to your customers via Rating Requests. Meanwhile, your Hively email snippet will still show the default rating page to customers if that's what you would like.
You can use a custom field set to differentiate between internal and external feedback – a simple drop down list (set as a required field) asking the rater to choose "Customer" or "Employee" is one way to do this. The results for this field can be analysed easily using the Reporting feature.
If your company uses Net Promoter Score you could add a field to your rating page to collect this. Add a field asking the question "How likely are you to recommend (company name, product etc.)" with a drop down list with options of numbers zero to ten. You can add 'hint' text help explain the zero to ten scoring range. Raters will select one of the smiley icons giving you instant Hively feedback as well as a Net Promoter Score which gives you a different method to evaluate customer sentiment. The NPS scores can be collated and analysed via the Reporting feature.
If you're keen to try out this new feature you can find it in the main Hively drop down menu under "Fields". This feature opens up many new possibilities and as a result it's a little more complex to set up than many of our other features so I'd recommend a quick read of our support article to run you through the ins and outs of creating a new field set.
---
Be the first to comment!