Posted on October 24th, 2017
We've added a few workflow improvements to make the lives of Admins that little bit easier, especially those looking after larger accounts. Collectively, they're worth a quick blog post. The changes are: Search for Team Members If you have more than a few dozen team members you're likely to benefit from the new Search field […]
Read More...
---
Posted on August 24th, 2017
Another feature just went live… we're on a roll! With this latest release, you have the ability to share feedback to Twitter and Facebook from within Hively where permission has been given by the rater. This feature will be particularly handy when you receive 'testimonial style' feedback. For a long time, we've had a checkbox […]
Read More...
---
Posted on August 22nd, 2017
The latest Hively release is all about financials. With this release: The old receipts are gone (hooray!), replaced by clearer, more detailed invoices that should contain all of the information you need. You can now have more than one billing contact. Billing contacts don't need to be Hively users and can be added by Admins […]
Read More...
---
Posted on July 18th, 2017
In our last blog post we discussed how you can use Rating Requests to get more feedback from your customers and I mentioned how here at Hively we'd done just that ourselves, generating almost ten times the feedback we'd been getting before. So, now that we've got all this extra information, what do we do […]
Read More...
---
Posted on June 27th, 2017
One of the questions we get asked from time to time by our customers is "How can I get more feedback?". If you'd like to get even more information from your customers than what flows through from having the Hively snippet in your email signature there's a way to do this – it's called a […]
Read More...
---
Posted on June 22nd, 2017

With the introduction of the new reporting module in Hively customers on paid plans will now be able to dive deeper into their feedback. The new reporting functionality can be accessed by selecting Reporting from the main menu. Fundamentally, two types of reports can be run – summary and detail. Detail reports don't aggregate your […]
Read More...
---
Posted on May 23rd, 2017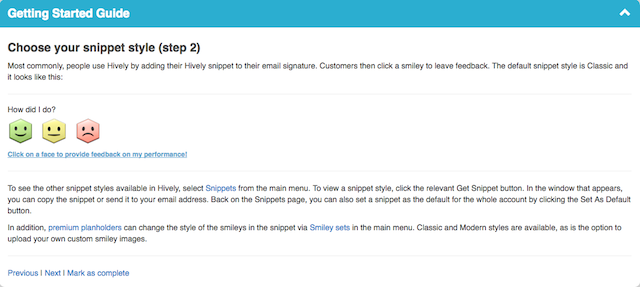 Hively's new Getting Started Guide makes the process of getting new users on your account up to speed easier and hopefully a bit more fun! Now, when a new user logs into Hively for the first time, they'll be greeted by a new section at the top of their screen that looks like this. The […]
Read More...
---
Posted on March 21st, 2017
Previously, setting fields in Hively as optional or required was an all-or-nothing choice. The Name, Email and Comment fields were either required for all rating types (Happy, Satisfied and Unhappy), or were optional for all. This has now changed so that each field can individually be set to optional or required for each rating type […]
Read More...
---
Posted on February 23rd, 2017
By default, Hively shares quite a lot of information between Team Members. For instance, Team Members can see their own ratings as well as the Leaderboard, which includes summary level information on the ratings of their fellow Team Members. We've found this to be a good default but it's not a perfect fit for all […]
Read More...
---
Posted on August 3rd, 2016

Bonjour! Hola! Ciao! If you communicate with your customers and employees in languages other than English, Hively now has you covered. With the addition of support for multiple languages in Hively, you can now: Set your account's default language. Set a different language for individual team members. Set a team member up to receive ratings […]
Read More...
---