Hively Announces Beta Participants
Posted on May 10th, 2011
Last week we accouned the beta sign up for our new product Hively and we had an amazing response! We orginally wanted only 3 – 5 companies to participate in the beta with us. However, because we had so many requests, we're giving close to 20 companies a trial run with Hively. Apparently a lot of companies are interested in providing excellent customer support!
The companies selected represt the industries of staffing, healthcare staffing, legal, travel, real estate, college universities, technology, manufactoring, e-commerce, hospitality and healthcare. We couldn't be more excited with such a great start.
We selected companies based on their diversity of industry, team size and reasons for wanting to try Hively. If we didn't select your company we assure you that you'll be first on our list to contact once the beta process is complete – sometime around mid to end of July. If you missed out on signing up for the beta go here and sign up for the next round. We'll let you know when we're taking on more teams!
So be on the look out for companies using Hively! You'll see it in their email signature. Feel free to start rating them on their customer service and support. And to those participating…nice job leading the pack! Congrats on taking a big step forward on improving your customer service!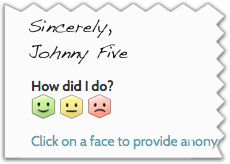 Click here to learn more about Hively – http://www.teamhively.com
---
Be the first to comment!