Customer Satisfaction Survey Fails
Posted on April 17th, 2012

I've been on the road traveling quite a bit lately – staying in hotels, renting cars, riding in taxis, taking flights, etc. Which means one thing – I've been bombarded by customer feedback surveys! Each survey was basically the same so I just chose one to discuss here.
The Sofitel Customer Satisfaction Survey from the Sofitel Hotel in Chicago.
The survey starts with the typical plain email with a link asking me to complete a survey. The email is so uninteresting and basic. The only reason I click is because I'm confident it will lead to…this blog post.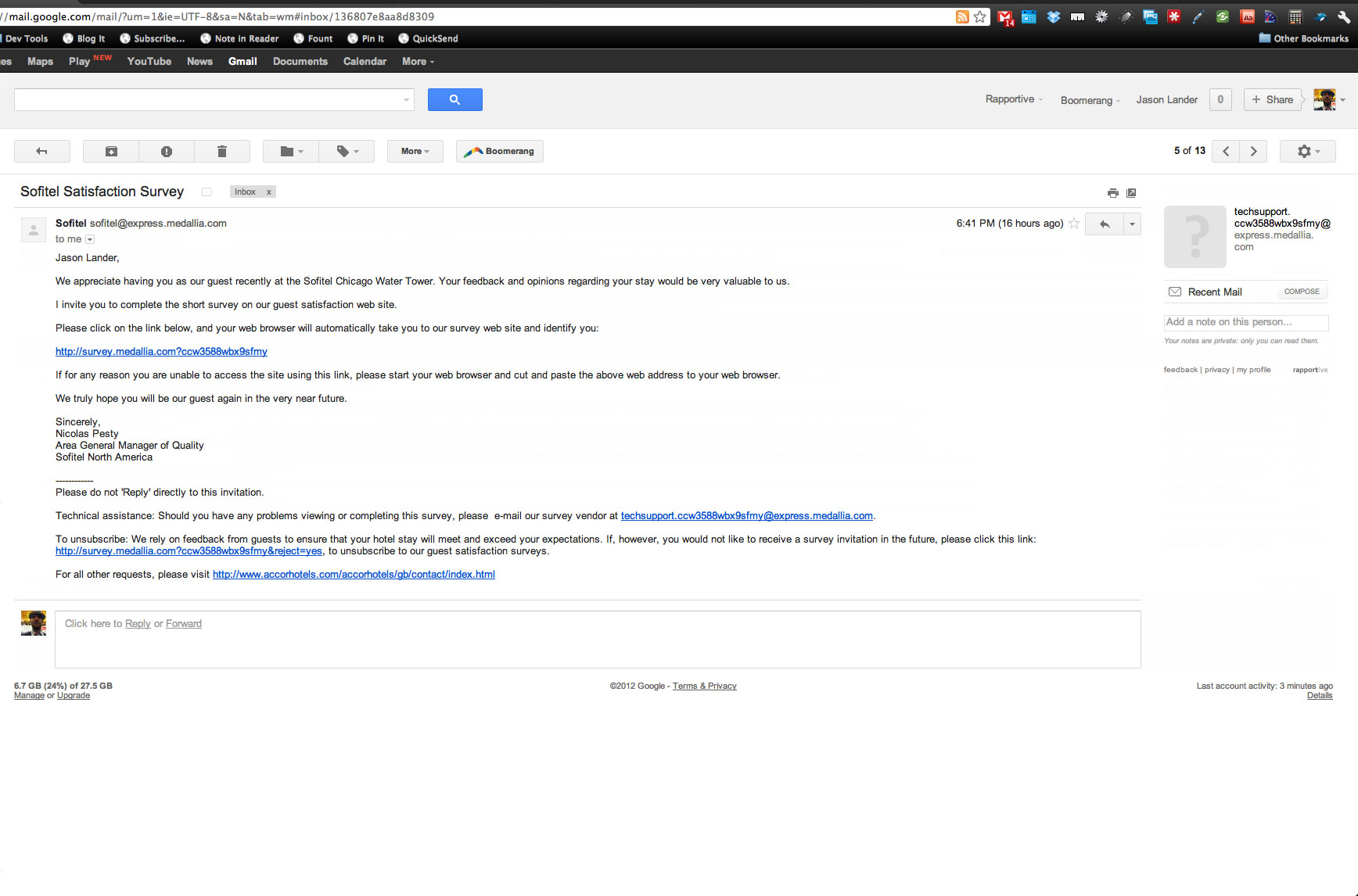 Next I'm ask to click to start the survey and taken to the first question. The first question is a simple question with only 2 answer options. Except, it's a really, really bad question. The question has nothing to do with me giving feedback to hotel. Instead, it's asking me to give them personal info and data. I have absolutely no motivation to give this information. However, I want to at least see the next question so I give it and click through. And then I get the next question….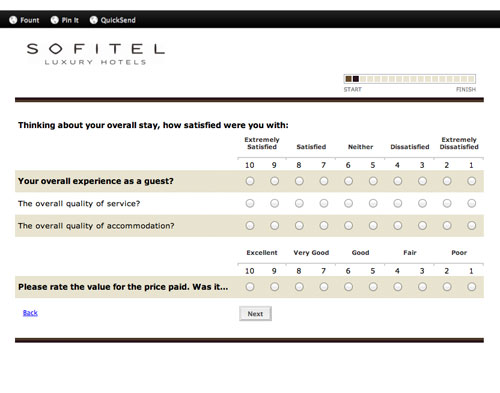 Multiple questions with multiple answers on a large scale and the progress bar tells me I'm about 10% done with the survey. No thanks. I simply don't have the time for this. Especially without any incentive for doing so.
It's unfortunate because I'd love to tell the Sofitel how happy I was with my stay.  I could easily have done that if they were using Hively. For example…
The front desk and concierge could have desk placards with their QR Code snippet. After every interaction I could have easily scanned the QR coded, clicked Happy, Satisfied or Unhappy and left comments with every experience. This would have given the hotel constant and immediate feedback throughout my stay. They'd receive praise as I gave positive feedback and be able to address any issues immediately if I had something negative to say.
Don't get me wrong – the purpose of this post isn't to say anything negative about the Sofitel Hotel. I actually had a great time. The experience was terrific, I'd highly recommend it and I'm sure I'll go back. However, if they continue to use surveys to try and measure customer satisfaction they'll never get feedback from me. I'm sure the same is true for the vast majority of their customers.
---
Be the first to comment!