Hively Mobile Customer Feedback Solution
Posted on July 3rd, 2012

One of our goals with Hively is to let you get feedback from every touch point with your customers. Not everyone provides customer service on the web. Many companies such as hotels, delivery providers, retail, airlines and restaurants provide direct, face to face customer service. Hively provides a solution for these types of businesses as well.
One of the rating snippet options in Hively is a 'QR Code' option. We blogged about the advantages of QR Codes a few weeks back. The QR Code rating option in Hively lets you print QR Codes for any member of your team, enabling them to receive direct customer feedback through any mobile device. You can print these QR Codes and place them anywhere. For example:
Business cards
Name badges
Placards at service or ticket counters
Signs or posters
Post cards or signature forms
Vehicles like moving trucks or taxis
Using the QR Code rating option lets your customers give feedback through any mobile device without having to send a text or make a phone call. There's no survey to fill out – just a simple 1 click response and a place to leave additional comments if desired. The feedback is sent instantly to your team member and as a manager, you get copied on the feedback. This way, you can give immediate praise to your team member for great performance, or address any issues if the customer is not satisfied.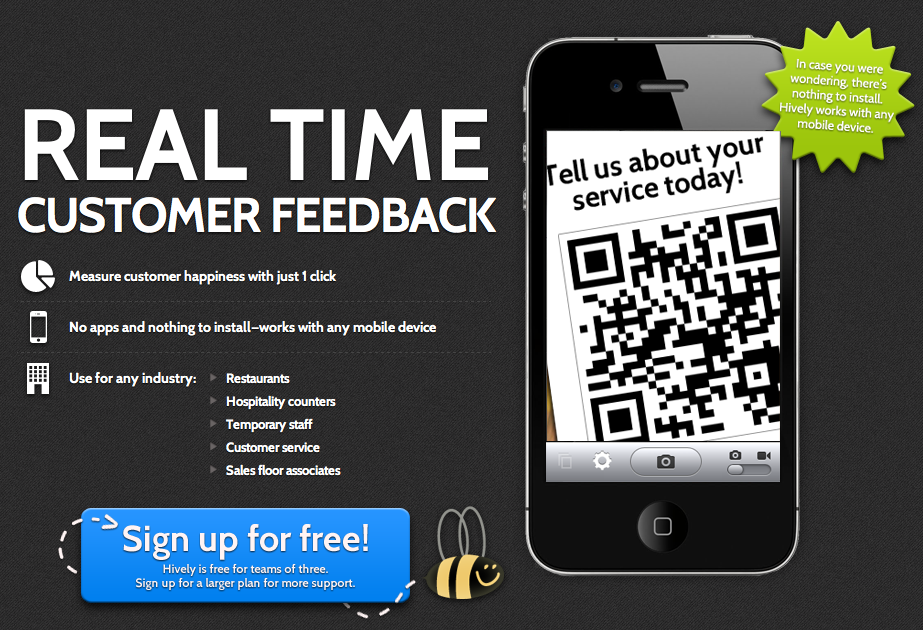 According to Ruby Newell-Legner only 4% of unhappy customers will ever say anything to you. Most of them will simply just never work with you again. That's why it's critical to give them every opportunity to leave you feedback and to make it simple. Even if they're unhappy. At least this way you have the opportunity to address it.
You can also incentivize your customers to give you feedback by creating Call-To-Action (CTA) buttons for them to view after they've completed the feedback. These CTA buttons let you create anything you want such as coupons, discounts, prizes, premium content, white papers, videos, etc. and can be customized based on whether the feedback was happy, satisfied or unhappy.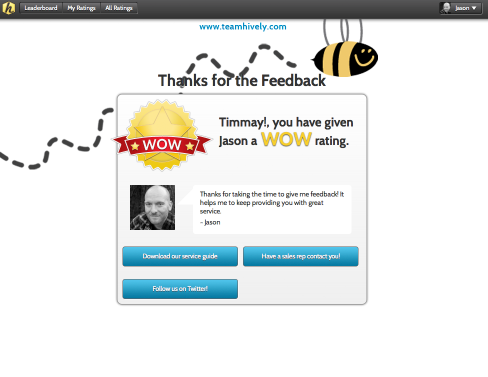 So check out Hively to see how it can help improve your customer happiness and employee motivation both on the web and through face to face customer interactions.
---
Be the first to comment!