At 3dcart, Customer Satisfaction is Priority No. 1
Posted on June 26th, 2013

Since 1997, 3dcart has provided online retailers with ecommerce software that has become widely known for being reliable, full-featured and extremely user friendly. Today, 3dcart powers more than 16,000 global e-stores, and their award-winning, U.S. based, in-house customer service department is on hand 24/7/365 to offer free phone, email and video chat support.
Steve Jobs once said, "If a user is having a problem, it's our problem," and that very same philosophy shapes the working mindset of every 3dcart employee.
Because customer satisfaction is top priority at 3dcart, they began using Hively to effectively measure the happiness of its customers.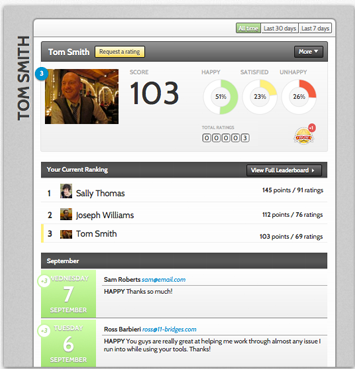 "Hively has provided us an incredibly effective tool that helps quantify customer satisfaction without having to run surveys every other month. Hively also allows us to keep a proverbial finger on the pulse of our Community, enabling us to focus on what truly matters… meeting the evolving needs and expectations of everyone we serve." – Bryan Shaw, Community Manager at 3dcart
In the past 30 days, 3dcart has seen a 29% response rate from their customers using Hively and has an overall customer happiness rating of 88%, which is awesome.
If you're looking to follow in 3dcart's shoes and provide amazing customer service to your clients, consider the following…
"Customers are the life-blood of any successful business, and they should be treated as such. Great customer service is an attitude, not an idea. Go the extra mile, and do whatever you can to make them feel satisfied and appreciated." – Michael Morgan, Technical Support Manager at 3dcart
Learn more about 3dcart and their amazing services here.
---
Be the first to comment!